Business Description
Even Here!
Houwa Engineering realizes greater efficiency of production planning through the development of environmentally friendly plant, including maintenance.
Helping our customers to create pleasant and secure spaces – that is what Houwa Engineering is all about.
As well as the pursuit of quality, we will contribute to society with technology that is considerate of the environment and that is kind on people and communities.
It is our belief that environmentally friendly technology is created through dialogue with our customers.
We strive always to meet customers' needs in the design, installation, and management of air-conditioning and temperature regulation systems and extensive after-sales support.
Supporting Food Safety and Security with Technology
Freezing and air-conditioning are used in many different fields, but Houwa Engineering has advanced technology and an extensive track record in the area of food manufacture.
We are a force behind the scenes that helps our customers provide reliable, high-quality food products.
Here are some examples of our products and services.
For Bread Production
Our technology is used in various different places in bakeries and bread factories.
For example, a high degree of reliability is required for temperature and humidity control in the fermentation chamber.
We have one of the best track records in the country when it comes to installation of fermentation chambers.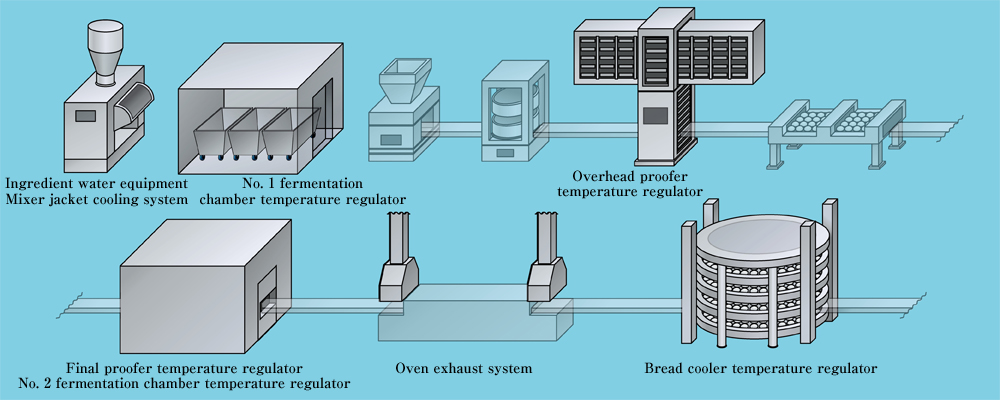 Installed Equipment

Fermentation chamber equipment
Mixer jacket brine cooling system
Hot and cold water/steam/air supply systems
Bread cooler equipment
Freezer/refrigeration equipment
Ventilation systems
Various control panels
At Your Local Supermarket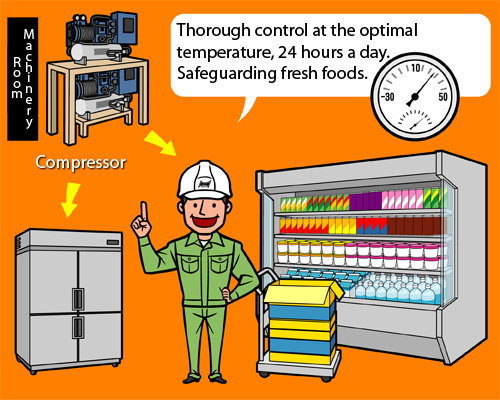 Picture the showcases in your neighbourhood supermarket.
Those showcases do not just run while the store is open. They are running 24 hours a day, 365 days a year. Thorough temperature control and maintenance of these showcases are what keep food products fresh and safe.
Installed Equipment

Showcase equipment
Freezer/refrigerator equipment
Backroom/food preparation equipment
Energy-conservation equipment
Water supply and drainage sanitation equipment
To Make Reliable Food Products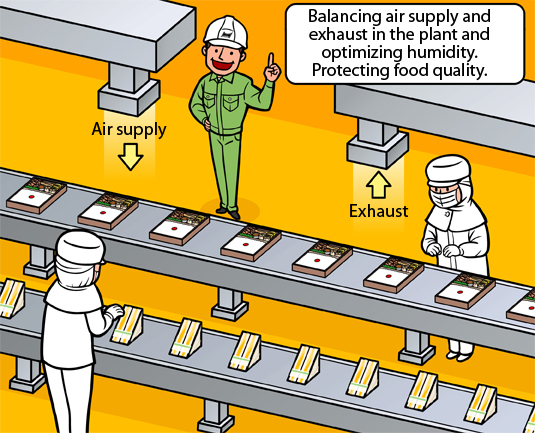 Food factories that make side dishes and bento meals.
Leveraging our advanced technologies in areas such as water supply and drainage and sterilization, we contribute to food safety.
Installed Equipment

Ventilation systems (response to positive pressurization)
Air-conditioning systems for low-temperature working environments
Ozone and other sterilization/sanitation systems
Freezing and refrigeration equipment
Clean room/sanitary pipe systems
Supermarket Showcase Equipment
Supermarket freezers and refrigerators
Showcase equipment
Energy-conservation equipment
Backroom equipment
Energy conservation equipment
Exhaust heat recovery equipment